Milky Way Panorama Workshop in Arches Canyonlands & Beyond - 4 Nights with Up To 12 Students - May 15-19, 2020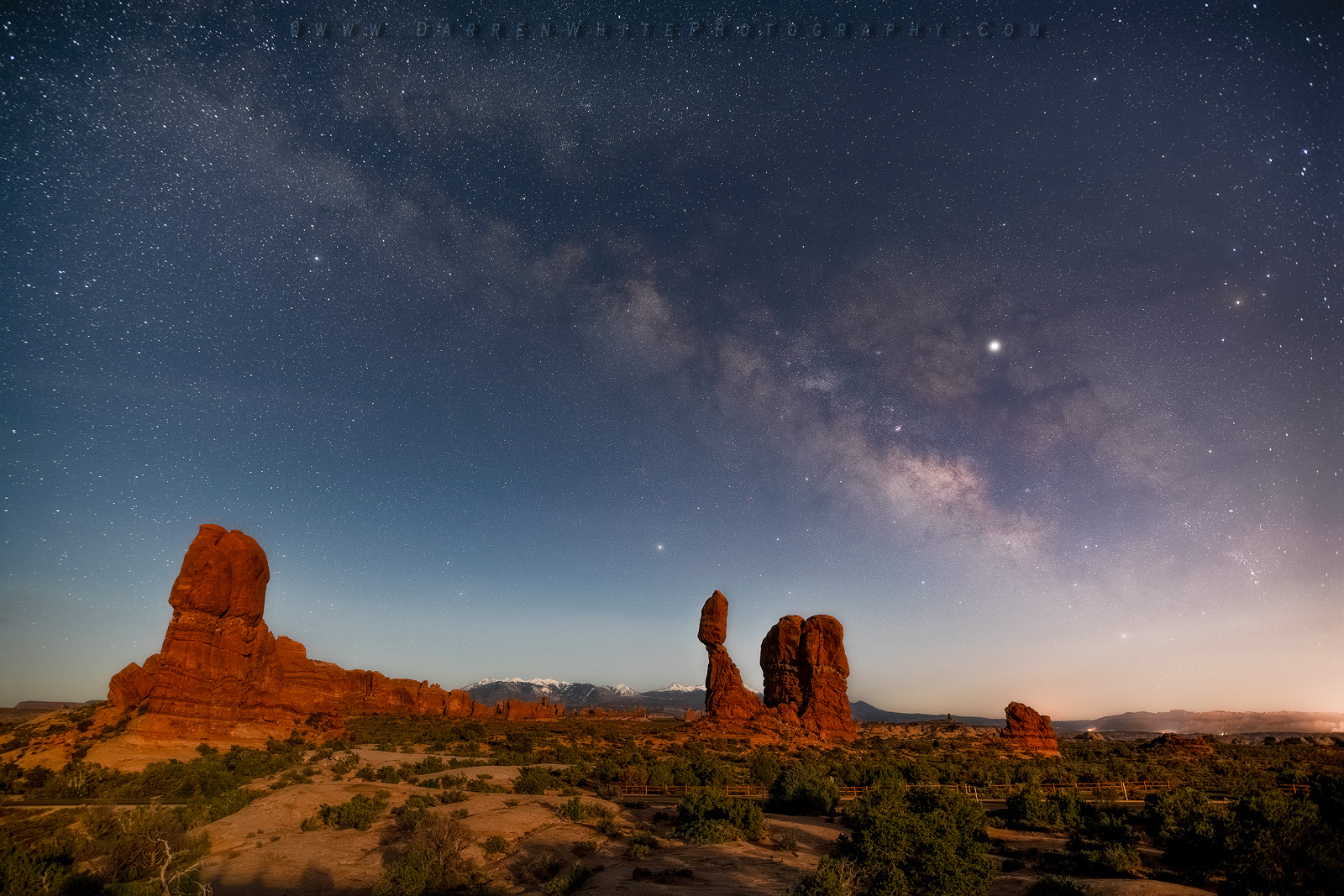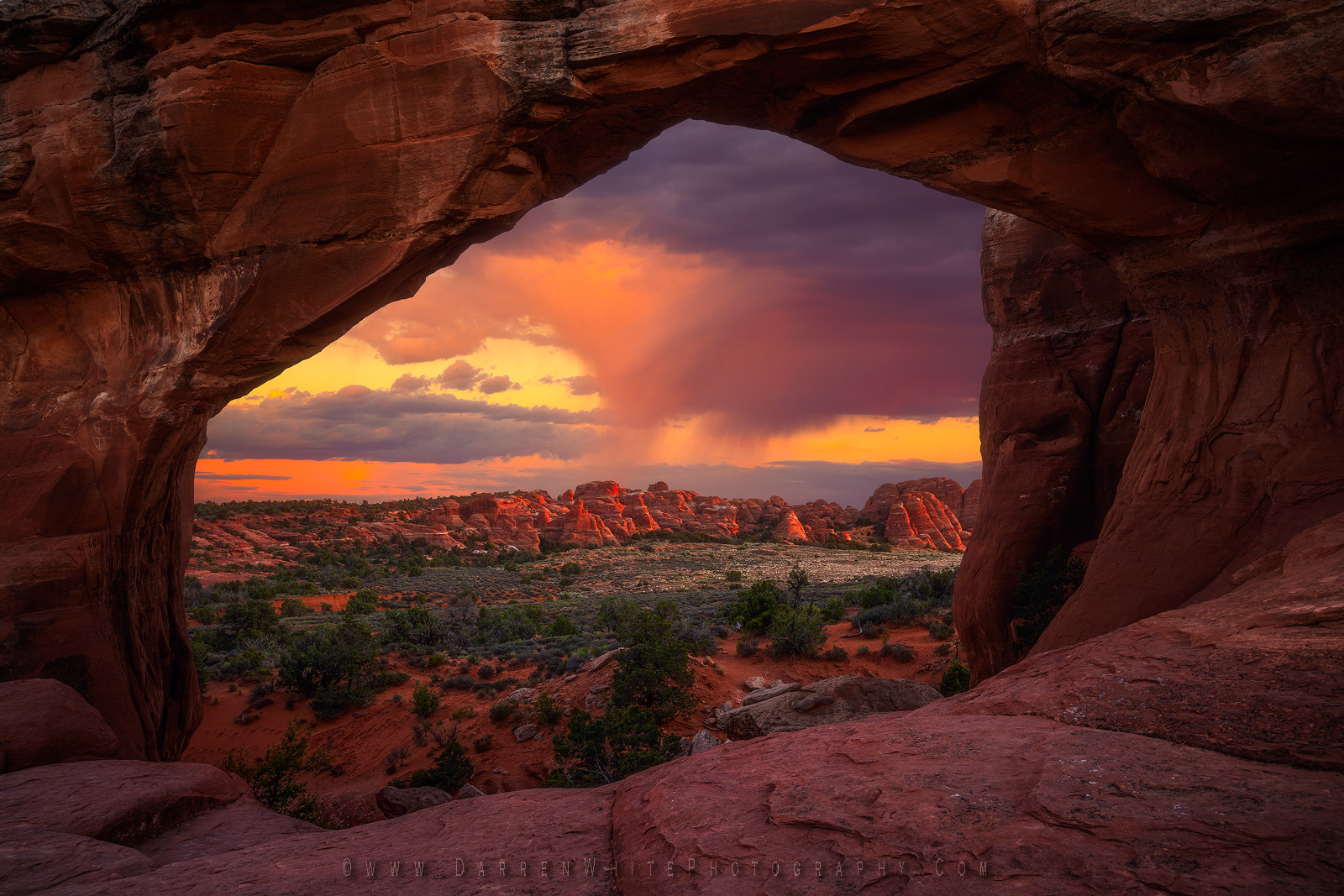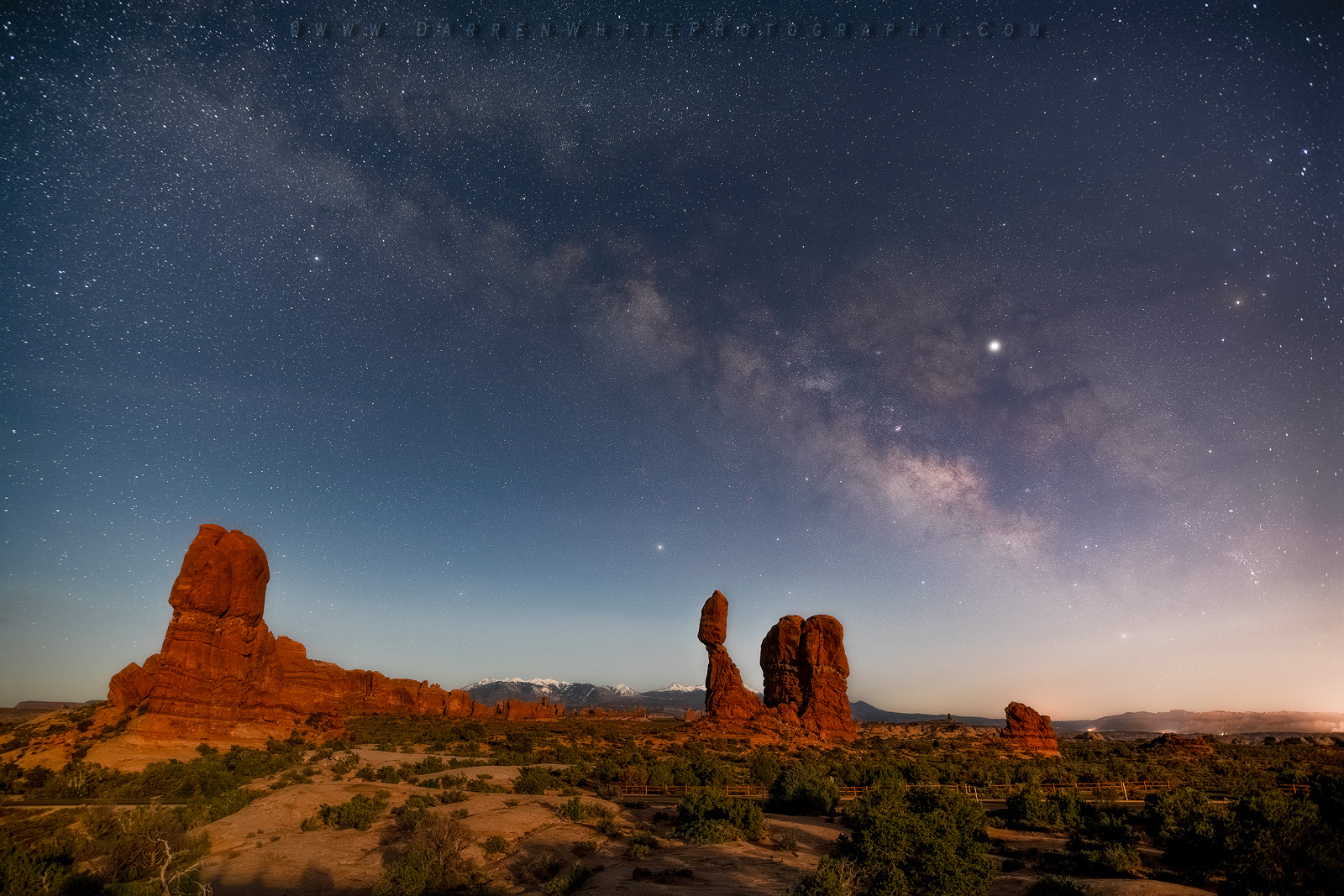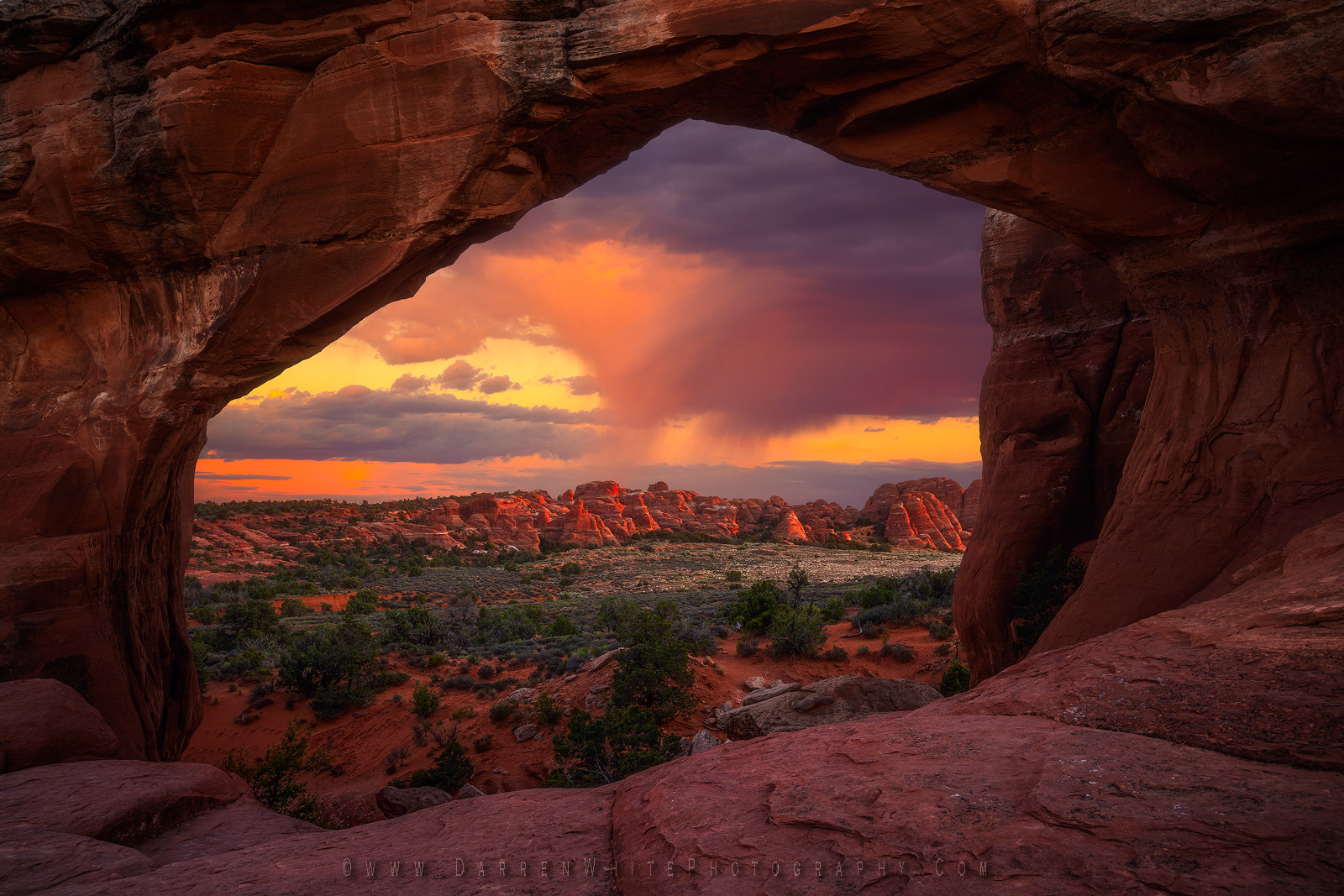 Milky Way Panorama Workshop in Arches Canyonlands & Beyond - 4 Nights with Up To 12 Students - May 15-19, 2020
Where: Arches & Canyonlands National Parks & Beyond
When: May 15 @ 3 pm - May 19 @ 7 am, 2020
What's Included:
4 Afternoons of Classroom Training

4 Nights of Location Guiding & In-Field Instruction with 2 Instructors
Moonlight:
May 16: 31% Moon Rising @ 3:29 am

May 19: 9% Moon Rising @ 4:44 am
Maximum # of Students: 12 (6 per instructor)
How Much: $1,495
Workshop Extension Option:
Available on the night of 5/14/2020 for $295

See full details at the bottom of the page
In the spring and early summer months, the Milky Way appears in a unique position with it running horizontally and even arcing like a rainbow above the horizon. In this workshop, we take advantage of compelling foregrounds in Arches & Canyonlands National Parks that compliment this arcing Milky Way so we can capture some incredible panoramas. After classroom training each day, we head out into the field at about 11 pm to make the most of the Milky Way skies and then we stay out through sunrise. We're excited to offer this unique opportunity to Milky Way photography students and we hope you'll join us. We're excited to offer this unique 4 night event with excellent opportunities to capture the awe of the Milky Way and we hope you'll join us.
Moab based events are special in that they access a ton of great locations in two big parks - Arches National Park and Canyonlands National Parks. But it doesn't stop there! With permits in Dead Horse Point State Park with the BLM (Bureau of Land Management), we have even more options for great locations outside of the National Parks. We like to take advantage of this as time and conditions allow.
____________________
Our workshops are NOT the kind of events where a tour guide just leads the group to good locations. We include a lot of instruction that features the basics all the way up to cutting edge techniques for getting the very best image quality possible. We cover the planning & scouting side, shooting techniques, and post-processing (with post-processing being the deepest area we get into). Each day, we have 3 hours in the classroom and after a break, we use instructor-led demonstrations and assisted shooting in the field to continue the learning process.
So yes, we have great locations… but there's a lot more to our workshops than that. With all the classroom content, demonstrations, open discussions, and chances to shoot your own camera with instructors nearby, the opportunity to learn about night photography is outstanding!
Can You Tell Me More About What's Included?
4 Afternoons of Classroom Training - as described on the Classroom Training Page complete with

How Much Classroom Training Is Included?

What Does The Classroom Training Content Look Like?

How Is The Training Content Presented?

When Does The Classroom Training Take Place?

What Should I Bring?

4 Nights of Location Guiding & In-Field Instruction - as shown on the In-Field Instruction Page with

What Does The In-Field Training Content Look Like?

When Does The In-Field Training Take Place?

What Should I Bring?

What Should I Expect When It Comes To Hiking?

What Do The Instructors Focus On?

What Happens If The Weather Is Bad?
What's Not Included?
Travel/Trip Insurance (highly recommended for those traveling by air)

Photo Gear Insurance (also recommended regardless of the workshop)

Cameras, Lenses, Tripods, etc.

Entrance Fee - we typically make use of the national park passes many people already have

Transportation

Transportation getting to the event is not included.

Transportation during the event is not included as people often like to ride in their own vehicles for flexibility and for easy access to their gear.

We encourage carpooling to minimize the number of vehicles we take into the national parks. And keep in-mind that Mike & Darren offer spots in their vehicles to students who'd like to ride with them - providing even more time with the instructors and eliminating the need for everyone to have a vehicle during the workshop.

Accommodations (hotel, campground, etc.)

Meals, Snacks & Drinks

Souvenirs
How Do I Know It's Good?
Who Should Sign Up?
Anyone with a basic understanding of digital photography

People interested in learning more about night photography

Previous experience with night photography is NOT required.

In the post-processing training, content includes instructions for accomplishing various tasks in Photoshop. And while previous experience with Photoshop isn't required, some students find it helpful to go into the workshop with some basic Photoshop skills - specifically with layers and masks. Feel free to ask either Mike or Darren for assistance and suggestions on resources to help in this direction. They're happy to help.
Why Arches & Canyonlands?
Known as a "Red Rock Wonderland" Arches National Park is a landscape like no other with giant archways, pinnacles, sandstone fins, and balanced rocks. For a photographer, these structures make terrific foregrounds and in this case, a terrific setting for an instructional workshop. In-fact, Mike views Arches as nothing less than a virtual playground filled with tremendous opportunities for amazing captures under the dark night skies. Mike has found lots of great locations in the park over the years and shares his visions of past and future images in his workshops - providing students with especially beautiful settings that make the learning come easy.
Some Of The Locations We Like To Visit (if time allows)
Delicate Arch

Balanced Rock

Double Arch

The Windows Area with North & South Windows and Turret Arch

Park Avenue with The Three Gossips and Courthouse Rock

Dinosaurs at Moab Giants

Fisher Towers

Corona Arch
How To Get There
Daily flights are available to Canyonlands Field (CNY) serving Moab, Utah - which works very well for those looking to make the most of their time. And with access to Enterprise Rent-A-Car in Moab, your visit is made easy right from the airport. As an alternative, you can fly into Grand Junction, Denver, Salt Lake, even Las Vegas and do the longer drive to Moab from there.
Where Do We Meet?
What Does The Workshop Schedule Look Like?
Typical Schedule For Each Day
3 pm - 6 pm: Classroom Training

6 pm - 11 pm: Break

11 pm - 7 am: In-Field Guiding & Training

7 am - 3 pm: Sleep, Lunch, & Review Images
When To Get There Before The Workshop Starts
If possible, Mike & Darren suggest arriving one full day before the event begins in order to minimize risk of travel interruptions, to give some extra flexibility with the weather, and to be well rested so you can make the most of the overnight workshops.
Can You Tell Me About The Training Style?
Primary Goals
Instructors remain focused on three primary goals for workshop students including having fun, going home with great pictures, and learning a lot.
Dual Trainers
Having two trainers in the workshop gives a lot of flexibility both out in the field and in the classroom. When beginner level questions come up, one instructor can answer the question while the other carries the group. This helps to keep anyone from feeling like they're being held back by beginner questions and yet encourages people to ask any question that comes to mind. And out in the field, having walkie-talkies gives Mike & Darren the ability to split the group up - resulting in even more flexibility.
No Secrets
Instructors look to share everything they know to help each student become a capable night photographer. Nothing is held back in this effort to teach all of the best techniques.
Resources
Learning doesn't end on the last day of the workshop. Mike shares a plethora of resources that allow students to pursue areas of specialty with new-found tools and resources. The point is to give students the combination of skills, tools, and resources to take more steps forward in their skills & abilities after they get back home. And don't forget to consider workshop instructors Mike Berenson and Darren White among those resources because they're happy to hear from and answer questions from both current and former students.
Whether you're new to night photography or have been doing it for a while, Mike and Darren invite you to take advantage of a wonderful training package with all the ingredients to help you be successful capturing your own nightscape images.
Testimonials - where you can see what past students have to say about their workshop
Terms And Conditions
Please contact Mike Berenson or Darren White if you have any questions.
Workshop Extension (option available for May 14, 2020)
Get a head start and maximize your workshop experience with an added night of in-field instruction before the workshop. We designate the night before our group workshop event starts as a night for in-field workshop extensions. At a cost of $295, workshop extensions are planned for 3-4 hours of night photography guided instruction and we limit them to just 3 students per instructor with a maximum of 6 students and 2 instructors. If you're interested, please keep in mind that availability is very limited so we recommend securing your spot now.