Milky Way Photography Workshop in Yellowstone - 4 Nights with Up To 12 Students - August 12-16, 2020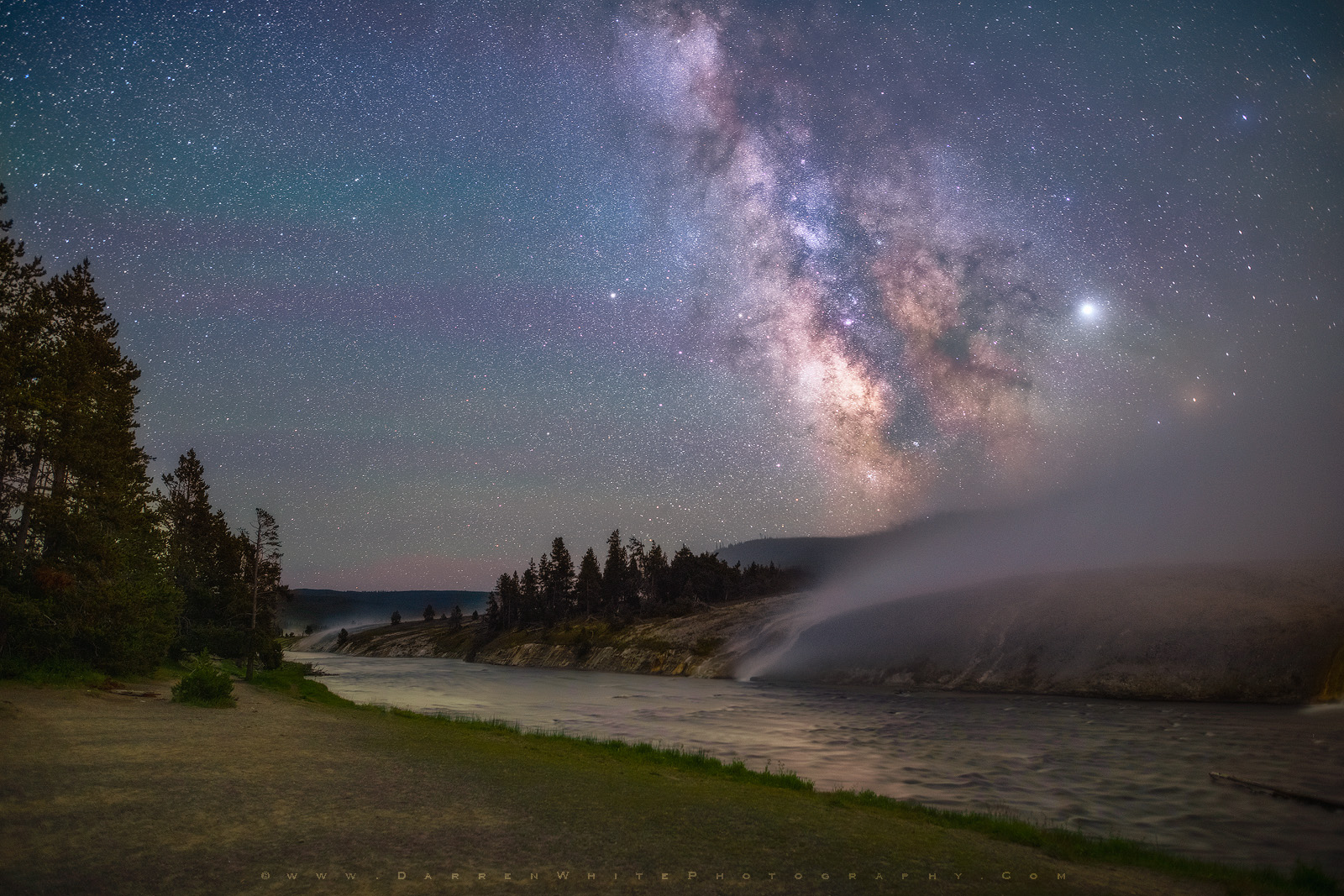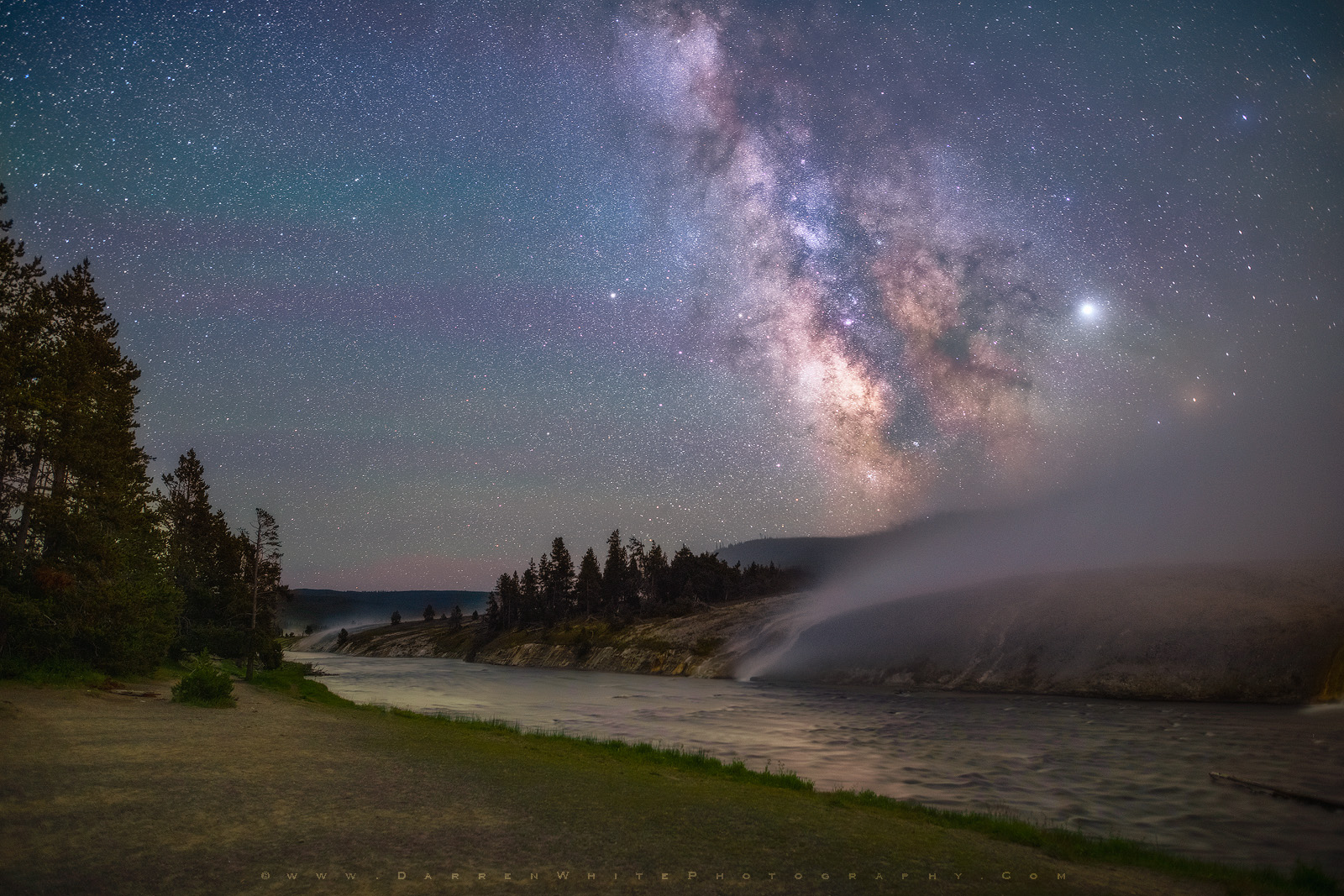 Milky Way Photography Workshop in Yellowstone - 4 Nights with Up To 12 Students - August 12-16, 2020
Where: Yellowstone National Park
When: August 12 @ 1 pm - August 16 @ 2 am, 2020
What's Included:
4 Afternoons of Classroom Training

4 Nights of Location Guiding & In-Field Instruction with 2 Instructors
Moonlight:
August 12: 42% Moon Rising @ 12:29 am

August 15: 14% Moon Rising @ 2:24 am
Maximum # of Students: 12 (6 per instructor)
How Much: $1,995
Workshop Extension Option:
Available on the night of 8/11/2020 for $295

See full details at the bottom of the page
There's no doubt that Yellowstone National Park is one of the premiere locations to photograph. But with all the crowds, it can be difficult to see and enjoy and capture the park in peace - unless you come visit in the dark of the night, that is. This special workshop event provides a students with a wonderful opportunity to combine geysers and waterfalls of Yellowstone National Park with the Milky Way and other celestial objects. After classroom training each day, we head out into the field in time for sunset, we train through twilight, and then we make the most of the Milky Way skies. We're excited to offer this unique 4 night event with excellent opportunities to capture the awe of the Milky Way from Yellowstone National Park and we hope you'll join us. As an added bonus, this event is timed with the Perseids Meteor Shower scheduled to peak on the night of August 12, 2020 and yes, we will certainly be taking advantage of this!
____________________
Our workshops are NOT the kind of events where a tour guide just leads the group to good locations. We include a lot of instruction that features the basics all the way up to cutting edge techniques for getting the very best image quality possible. We cover the planning & scouting side, shooting techniques, and post-processing (with post-processing being the deepest area we get into). Each day, we have 3 hours in the classroom and after a break, we use instructor-led demonstrations and assisted shooting in the field to continue the learning process.
So yes, we have great locations… but there's a lot more to our workshops than that. With all the classroom content, demonstrations, open discussions, and chances to shoot your own camera with instructors nearby, the opportunity to learn about night photography is outstanding!
Can You Tell Me More About What's Included?
4 Afternoons of Classroom Training - as described on the Classroom Training Page complete with

How Much Classroom Training Is Included?

What Does The Classroom Training Content Look Like?

How Is The Training Content Presented?

When Does The Classroom Training Take Place?

What Should I Bring?

4 Nights of Location Guiding & In-Field Instruction - as shown on the In-Field Instruction Page with

What Does The In-Field Training Content Look Like?

When Does The In-Field Training Take Place?

What Should I Bring?

What Should I Expect When It Comes To Hiking?

What Do The Instructors Focus On?

What Happens If The Weather Is Bad?
What's Not Included?
Travel/Trip Insurance (highly recommended for those traveling by air)

Photo Gear Insurance (also recommended regardless of the workshop)

Cameras, Lenses, Tripods, etc.

Entrance Fee - we typically make use of the national park passes many people already have

Transportation

Transportation getting to the event is not included.

Transportation during the event is not included as people often like to ride in their own vehicles for flexibility and for easy access to their gear.

We encourage carpooling to minimize the number of vehicles we take into the national parks. And keep in-mind that Mike & Darren offer spots in their vehicles to students who'd like to ride with them - providing even more time with the instructors and eliminating the need for everyone to have a vehicle during the workshop.

Accommodations (hotel, campground, etc.)

Meals, Snacks & Drinks

Souvenirs
How Do I Know It's Good?
Who Should Sign Up?
Anyone with a basic understanding of digital photography

People interested in learning more about night photography

Previous experience with night photography is NOT required.

In the post-processing training, content includes instructions for accomplishing various tasks in Photoshop. And while previous experience with Photoshop isn't required, some students find it helpful to go into the workshop with some basic Photoshop skills - specifically with layers and masks. Feel free to ask either Mike or Darren for assistance and suggestions on resources to help in this direction. They're happy to help.
Why Yellowstone National Park?
Yellowstone National Park has been drawing landscape and wildlife photographers from around the world for decades. Unfortunately though, it's been a bit too popular. With big crowds comes a busy touristy kind of experience that leave people to wonder - how can I see Yellowstone without all the crowds. In the dark of the night, the peaceful side and the beauty really shines. Geysers, waterfalls, and steamy pools provide stunning foregrounds to combine with Milky Way skies above - providing a stunning opportunity to learn & capture great images along the way.
Some Of The Locations We Like To Visit
Old Faithful Geyser

Castle Geyser

Grand Prismatic Spring

Firehole Lake

Lookout Point

Upper & Lower Terraces (Mammoth Hot Springs)

Rustic Falls (Mammoth Hot Springs)
How To Get There
Daily flights are available to Jackson Hole Airport (JAC) serving Yellowstone National Park, Wyoming - which works very well for those looking to make the most of their time. And with access to Avis, Hertz, and Enterprise Rent-A-Car, your visit is made easy right from the airport. As an alternative, you can fly into Salt Lake City and do the longer drive to Yellowstone from there.
Where Are The Hotel & Classroom Training Located?
Accommodations
Lake Yellowstone Hotel
235 Yellowstone Lake Rd
Yellowstone National Park, WY 82190
We'll provide the link to reserve your room when it's available from YNP.
Big Map
;">
Classroom Training
Lake Yellowstone Hotel
E.C. Waters Conference Room
235 Yellowstone Lake Rd
Yellowstone National Park, WY 82190
Big Map
What Does The Workshop Schedule Look Like?
Typical Schedule For Each Day
2 pm - 5 pm: Classroom Training

5 pm - 7 pm: Break for Dinner

7 pm - 3 am: In-Field Guiding & Training

2 am - 2 pm: Sleep, Lunch, & Review Images
When To Get There Before The Workshop Starts
If possible, Mike & Darren suggest arriving one full day before the event begins in order to minimize risk of travel interruptions, to give some extra flexibility with the weather, and to be well rested so you can make the most of the overnight workshops.
What Are Bison Jams?
You'll likely see a Bison Jam when traffic backs up to see Buffalo near a road so please include extra time in your travel planning to account for the Bison Jams - especially during daytime hours. As an example, plan on at least an hour to get from Canyon Village to Lake (or vice versa) in the daytime.
Can You Tell Me About The Training Style?
Primary Goals
Instructors remain focused on three primary goals for workshop students including having fun, going home with great pictures, and learning a lot.
Dual Trainers
Having two trainers in the workshop gives a lot of flexibility both out in the field and in the classroom. When beginner level questions come up, one instructor can answer the question while the other carries the group. This helps to keep anyone from feeling like they're being held back by beginner questions and yet encourages people to ask any question that comes to mind. And out in the field, having walkie-talkies gives Mike & Darren the ability to split the group up - resulting in even more flexibility.
No Secrets
Instructors look to share everything they know to help each student become a capable night photographer. Nothing is held back in this effort to teach all of the best techniques.
Resources
Learning doesn't end on the last day of the workshop. Mike shares a plethora of resources that allow students to pursue areas of specialty with new-found tools and resources. The point is to give students the combination of skills, tools, and resources to take more steps forward in their skills & abilities after they get back home. And don't forget to consider workshop instructors Mike Berenson and Darren White among those resources because they're happy to hear from and answer questions from both current and former students.
Whether you're new to night photography or have been doing it for a while, Mike and Darren invite you to take advantage of a wonderful training package with all the ingredients to help you be successful capturing your own nightscape images.
Workshop Extension (option available for August 11, 2020)
Get a head start and maximize your workshop experience with an added night of in-field instruction before the workshop. We designate the night before our group workshop event starts as a night for in-field workshop extensions. At a cost of $295, workshop extensions are planned for 3-4 hours of night photography guided instruction and we limit them to just 3 students per instructor with a maximum of 6 students and 2 instructors. If you're interested, please keep in mind that availability is very limited so we recommend securing your spot now.
Testimonials - where you can see what past students have to say about their workshop
Terms And Conditions
Please contact Mike Berenson or Darren White if you have any questions.
Night Photography Workshop is an Authorized Permittee of the Yellowstone National Park